Your Brain, in the Clouds
The app specifically crafted to adapt, helping individuals, teams, and organizations carry any project through from messy ideas to final delivery.
Register Now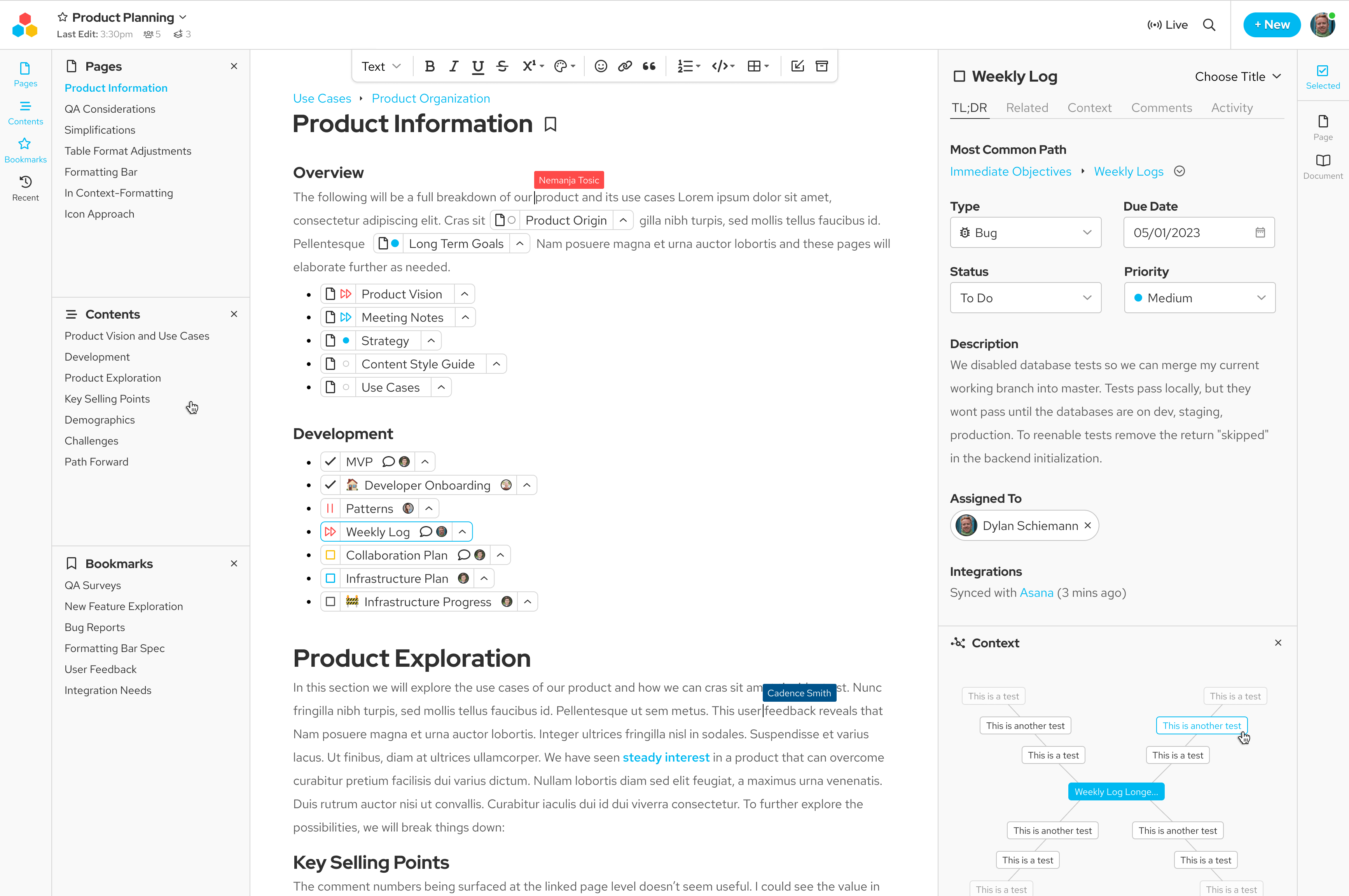 Tired of wasting time, money, and energy trying to bring your projects to completion?
"
Cut down on costs and save precious time by saying goodbye to miscommunication and wasted resources.
Living Spec is a web application designed to emulate the way your brain naturally processes information while leveraging powerful collaborative features, version history control, and integration capabilities. All in a highly flexible native type of document called a Spec.
Dylan Schiemann & Nemanja Tosic, co-founders
Think, organize, delegate. Rinse and repeat.
Update and restructure documents as your project evolves while keeping a complete record of your process thanks to our version history feature. Specs enable you to not only store information as your project grows but also to quickly and easily reshape how this information is displayed. Viewing tasks and documents in the Spec's context makes it easy for anyone to have a clear overview of a project or zone in on a specific aspect in seconds.
Give your team a collaborative brain in the clouds.
Miscommunication is the number one cause of delays and misunderstandings, resulting in wasted time, energy, and money within an organization. Tame teamwork by giving each person a way to easily and efficiently follow or add to a conversation while providing everyone with an accurate overview of a project.
Let the app shape itself to your workflow.
Empower each person in your team to shape their use of Living Spec in a way that fits their workflow, allowing them to collaborate in the most efficient, intuitive, and creative way possible. Power users can enjoy Living Spec's efficiency-driven shortcuts, while less tech-oriented users have access to a simple and intuitive interface. With its powerful integration features, Living Spec streamlines the process of gathering data from a variety of sources by making it all available in one place.
Sign Up to Get Early Access
Start using Living Spec for free and try it out with a few people on your team. Upgrade to a paid plan only when you're ready.
Login